Alliance project outputs are identified, prioritized, and reviewed on a 2-year cycle at the Annual General Meeting by the larger membership. Members must follow a formal submission process to request new projects (outside of the annual feedback survey) which are reviewed and approved by the Executive Steering Committee.
Listed below are the key projects and initiatives from each of the CWHHA Working Groups. For more information or questions, please contact us.
Wear Red Canada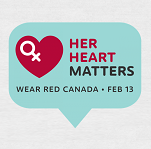 Advocacy Working Group
On February 13, 2021, raise awareness about women's heart health in Canada! Wear Red, share key messages on Women's Heart Health with colleagues and friends, and let them know where they can get more information by sending them to wearredcanada.ca.
Take pictures of yourselves, your groups, and/or organizations wearing red and share them on social media using #HerHeartMatters on Facebook and Twitter.
Canadian Women's Heart Health Education Course & Teaching Toolkit
Training and Education Working Group
In 2017, the CWHHC published results from a national survey identifying a need to increase awareness and knowledge regarding the incidence, prevalence, significance, and management of heart disease in women among Canadian clinicians. To address this need, 9 educational modules have been created targeting trainees and healthcare professionals within cardiology, general internal medicine, and emergency medicine.
State of the Science in Women's Cardiovascular Disease: A Canadian Perspective on the Influence of Sex and Gender, February 2020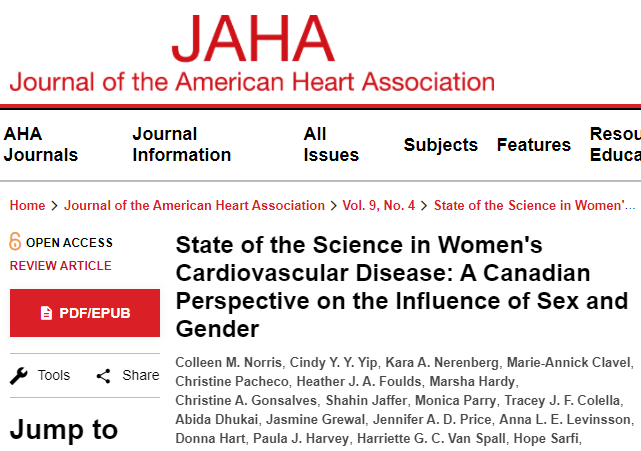 Knowledge Translation and Mobilization & Health Systems and Policy (joint collaboration)
A national collaborative effort of over 35 authors from across Canada (including a number of women with lived experience) published this scientific statement summarizing critical sex- and gender-specific issues in CVD. This comprehensive review of the evidence focused on the sex- and gender-specific differences in comorbidity, risk factors, disease awareness, presentation, diagnosis, and treatment across the entire spectrum of CVD.
The Canadian Women's Heart Health Alliance ATLAS on the Epidemiology, Diagnosis, and Management of Cardiovascular Diseases in Women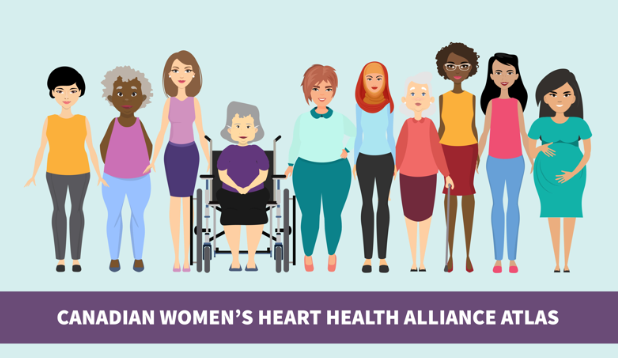 Knowledge Translation and Mobilization & Health Systems and Policy (joint collaboration)
In the process of creating the scientific statement, it was recognized that the team had also assembled an expansive collection of original research articles that were synthesized into detailed chapters reporting on the present state of the evidence unique to each cardiovascular condition in women. This work comprises an "ATLAS" on the epidemiology, diagnosis, and management of CVD in women.
English