Join the Wear Red Canada team!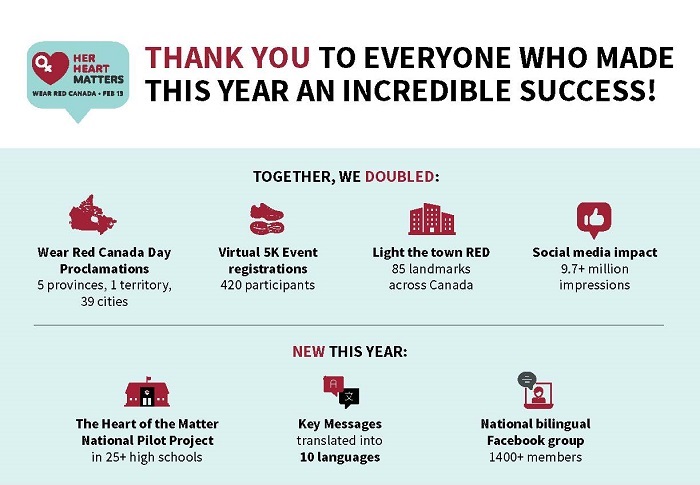 Thank you to everyone who participated in this year's Wear Red Canada campaign! The #1 goal is to increase awareness of women's heart health across Canada. Our reach has increased significantly this year and it is because of all of you!
From the bottom of our hearts – thank you!
What is Wear Red Canada?
Wear Red Canada is celebrated annually across Canada on February 13th to raise awareness about women's heart health. Proudly hosted by the Canadian Women's Heart Health Alliance and powered by the Canadian Women's Heart Health Centre.
Events are held online and across the country to serve as a reminder for all Canadians, but especially Canadian women, to be mindful, curious, and proactive in the management of our heart health and wellness.
HEART DISEASE IS ON THE RISE. IT'S THE LEADING CAUSE OF DEATH FOR WOMEN WORLDWIDE.
| | | | | |
| --- | --- | --- | --- | --- |
| Heart attack symptoms are not recognized in over 50% of women. | Causes of heart disease can be different for women than men. | Women can be at greater risk for heart disease than men. | There is a lot we can all do to help reduce the risk. Heart disease is largely preventable. | To take care of others, you need to first take care of yourself. Start the conversation with the women in your life. |
How can I participate?
1. Wear Red

Visit our Online Store and shop for Wear Red Canada branded merchandise. All proceeds go towards supporting women's heart health initiatives like this one!

2. Share Key Messages

Learn more about the 5 key messages for the 2022 campaign and view our Social Media Strategy to help plan your posts and join the #HerHeartMatters conversation.

3. Get Involved

Light the Town Red - visit some of your local landmarks and ask for them to light their building RED for February 13th. Learn more >>




​​⇒ Try the Her Heart Matters profile frame! Look for the "Wear Red Canada" profile frame while editing your profile photo!
FEATURED EVENTS & ACTIVITIES
National Webinar
Hear from Canadian women's heart health experts and advocates from the comfort of your own home or workplace.
Campaign Toolkit
View the campaign toolkit that includes the key messages, email strategy, ideas for social media posts, promotional materials and more.
Women's Heart Health Quiz - Test Your Knowledge!
The following quiz was created by a team of passionate healthcare professionals to generate awareness and improve education in the general public and medical community about women's heart health. Celebrate Wear Red Canada day on Feb 13th and Wear Red. We believe that informed women are empowered women. Learning about heart health can help women to advocate for their own health, and the health of their loved ones. Try it, enjoy learning and enhance your knowledge!
NEW!

The
of the Matter: Let's Talk About Women's Heart and Vascular Health

Lesson Plan and Toolkit for High School Teachers and Students
As part of the 2022 Wear Red Canada campaign, we are looking to expand our reach to younger audiences and bring awareness to this important issue. This Lesson Plan and Toolkit is meant to spark conversation among students, staff, parents/guardians and the community about women's heart health and raise the visibility of Wear Red Canada at your school.

This lesson plan targets grade 8 to 11 students and can be adapted for a variety of subjects and levels with the goal to complement the existing curriculum (ex. grade 9 science or grade 11 biology, physical education, health).

View Lesson Plan and Toolkit >>
Women's Heart Health Resources
Vetted by the Canadian Women's Heart Health Alliance, these credible resources on women's heart health address different types of heart disease, prevention, treatment, and communication with health providers.
Interested in doing more? Join a Regional Planning Committee!
Our #1 goal for Wear Red Canada is to reach more people across Canada. Therefore, we have created regional planning committees with representation from patient advocates, clinicians, researchers and trainees to help disseminate our key messages about women's heart health. See our overview document to learn more and contact us to take part.
Past Campaigns
The Canadian Women's Heart Health Alliance is powered by the Canadian Women's Heart Health Centre at the University of Ottawa Heart Institute with funding support from the University of Ottawa Heart Institute Foundation.