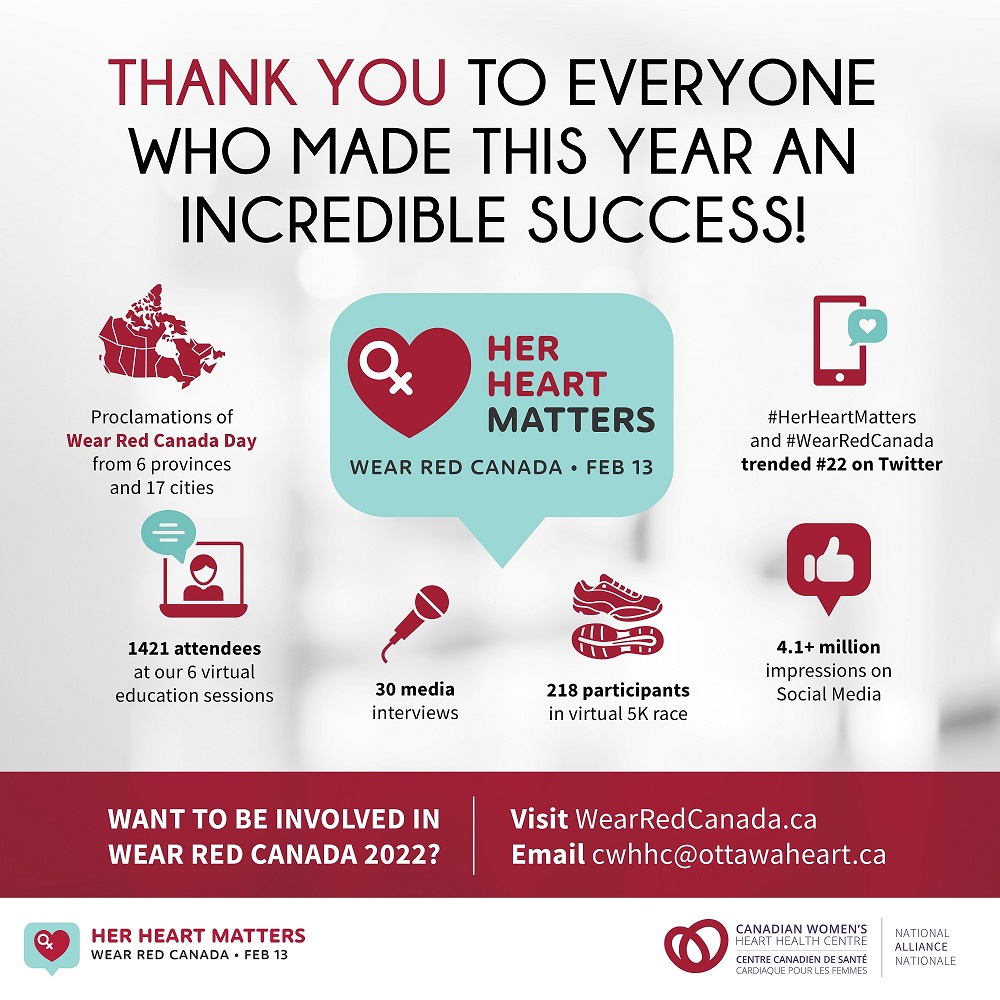 What is Wear Red Canada?
Proudly hosted by the Canadian Women's Heart Health Alliance and funded by the Canadian Women's Heart Health Centre, Wear Red Canada Day is celebrated annually across Canada on February 13th to raise awareness about women's heart health. Events are held across the country to serve as a reminder for all Canadians, but especially Canadian women, to be mindful, curious, and proactive in the management of our heart health and wellness.
Heart disease is the number one killer of women worldwide and the leading cause of premature death in Canadian women. Globally, cardiovascular diseases affect 1 out of 3 women, yet women everywhere are under-studied, under-diagnosed, under-treated, and under-aware when it comes to their heart health. Worse, considering that 80% of a woman's risk factors are within her control, heart disease is largely preventable.
We are going VIRTUAL for 2021!
View National Program Schedule >>
How can I participate?
1. Wear RED on February 13th.

2. *NEW* Join the Virtual 5k Race! Feb. 13 - 28
On your mark… get set… Go! Hosted by the CWHHA and sponsored by SERVIER and AstraZeneca, join the first-ever Virtual 5K run/walk for Wear Red Canada!
Space is limited - Sign up today!

3. Take pictures, share them on social media using #HerHeartMatters and spread the word! See our Social Media Strategy for sample wording.

4. Share key messages on women's heart health with colleagues, family, and friends.

6. Light the town red in support of women's heart health. We are asking businesses to light up your company building and/or store front in red and share a picture to show your support on social media using the hashtags #HERHEARTMATTERS and #WEARREDCANADA.
National Program
Hear from Canadian women's heart health experts and advocates from the comfort of your own home or workplace.
Campaign Toolkit
View the campaign toolkit that includes the key messages, email strategy, ideas for social media posts, promotional materials and more.
Women's Heart Health Resources
Vetted by the Canadian Women's Heart Health Alliance, these credible resources on women's heart health address different types of heart disease, prevention, treatment, and communication with health providers.
Interested in doing more? Participate on a Regional Planning Committee!
Our #1 goal for 2021 is to reach more people across Canada. Therefore, we have created regional planning committees with representation from clinicians, researchers, trainees, and patient advocates to help disseminate key messages about women's heart health. See our overview document to learn more and contact us to take part.
Past Campaigns