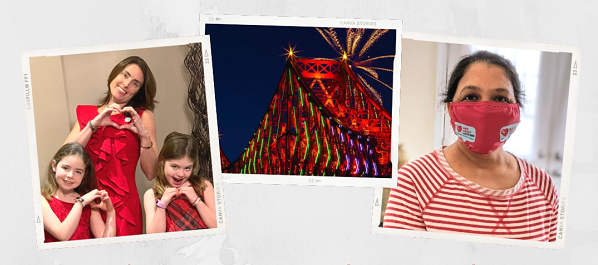 Show your support for women's heart health for your chance to win!
Heart and vascular disease is the leading cause of hospitalization and premature death for women in Canada. Help raise awareness about this important issue and spread the word on social media.
How to Enter:
On February 13, 2022, share a photo on social media of either yourself wearing red or one of these buildings lit in red listed here and tell us why #HerHeartMatters to you.
Use the hashtag #WearRedCanada and #HerHeartMatters. Post your photo on our Wear Red Canada Facebook Group (don't forget to join the group first!). You can also post on Twitter or Instagram and tag @CWHHAlliance.
There is no limit to the number of photos you post for this contest. The same photos posted on different social media platforms will count as one entry.
If you do not have a social media account and would like to be considered for the prize, you can email your photo to: cwhhc@ottawaheart.ca and write "WRC Photo Contest" in the subject line.
Prizes:
Two winners will be chosen at random on February 14 and be awarded a gift card to the Wear Red Canada online store!
Find out more:
Interested in learning more about women's heart health and why it matters? Take a look at our list of resources and the Wear Red Canada 2022 key messages.
---
The Canadian Women's Heart Health Alliance is a network of experts and advocates from across Canada aiming to improve women's cardiovascular health across the lifespan.
Powered by:

English