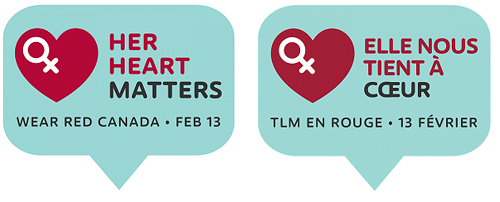 2022 National Webinar
Date: Sunday, February 13, 2022
Time: 9:00am - 10:30am PST / 10:00am - 11:30am MST / 11:00am - 12:30pm CST / 12:00pm - 1:30pm EST / 1:00pm - 2:30pm AST / 1:30pm - 3:00pm NST
#HerHeartMatters: the Importance of Heart and Vascular Disease Prevention and Recovery
2022 THEME: To take care of others, you need to first take care of yourself.
There is a lot we can all do to help reduce the risks, as heart disease is largely preventable. During this webinar, you'll hear from women with lived heart disease experience, experts, and advocates from coast to coast discuss:
Key messages about women's heart health;

tips to get active and keep moving - no matter your limits or abilities;

ways to manage stress by practicing mindfulness and self-compassion;

how to prepare a variety of heart-healthy and affordable meals;

and much more!
Special guest appearances include an Olympic gold medalist, a Paralympian and a Celebrity Chef!

Whether you are living with heart disease or at risk, a caregiver, or someone interested in learning more about women's heart health - join us and others from across Canada for this special Wear Red Canada presentation.
---
The Canadian Women's Heart Health Alliance is a network of experts and advocates from across Canada aiming to improve women's cardiovascular health across the lifespan.
Powered by:

English