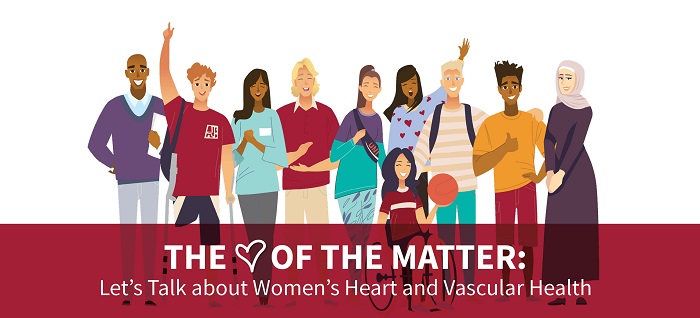 Wear Red Canada is celebrated annually across Canada on February 13th to raise awareness about women's heart and vascular health. In 2018, the Canadian Women's Heart Health Alliance (CWHHA) was launched to implement evidence, transform clinical practice, and impact public policy related to women's heart and vascular health.
As part of the 2022 Wear Red Canada campaign, we are looking to expand our reach to younger audiences and bring awareness to the important issue of women's heart and vascular health. This 60-minute Lesson Plan and Educator Toolkit are meant to spark conversation among students, staff, parents/guardians, and the community about women's heart health and raise the visibility of Wear Red Canada at your school.
This lesson plan targets grade 8 to 11 students and can be adapted to a variety of subjects and levels with the goal of complementing the existing curriculum within your province (e.g. grade 9 science or grade 11 biology, physical education, health). See National High School Curriculum Grid based on Province/Territory for more information.

​Please email cwhhc@ottawaheart.ca if you have any questions.
Learning Goals
At the end of the lesson, students will be able to:
Outline the rationale as to why women's heart and vascular health is important.
Describe the anatomy of the heart, different heart and vascular diseases, how women's hearts are different, symptoms of a heart attack, and what they can do to help.
Describe healthy behaviours to encourage prevention and management of heart and vascular diseases.
Identify resources to learn more and the steps for acting and advocating for women's heart and vascular health at your school and community.
Educator Toolkit
Once confirmation has been received, participating educators will receive the following toolkit resources:
Educator Lesson Plan

PowerPoint Slide Deck + Embedded Video Link

Student Handout

Activity Handouts
60-Minute Lesson Plan Outline
Icebreaker discussion activity

Pre-test assessment

Video: Interview, cardiovascular disease overview, Wear Red Canada key messages

5 practice activities to choose from

Post-test assessment

Ongoing learning
Disclaimer: This program is not intended to provide medical advice. Always seek the advice of your physician or another qualified healthcare provider with any questions you may have regarding your health and medical care.
---
The Canadian Women's Heart Health Alliance is a network of experts and advocates from across Canada aiming to improve women's cardiovascular health across the lifespan.
Powered by:

English