2021: CWHHA at the Canadian Cardiovascular Congress (CCC)
#HERHEARTMATTERS: Bridging the Sex and Gender Gaps in Cardiovascular Research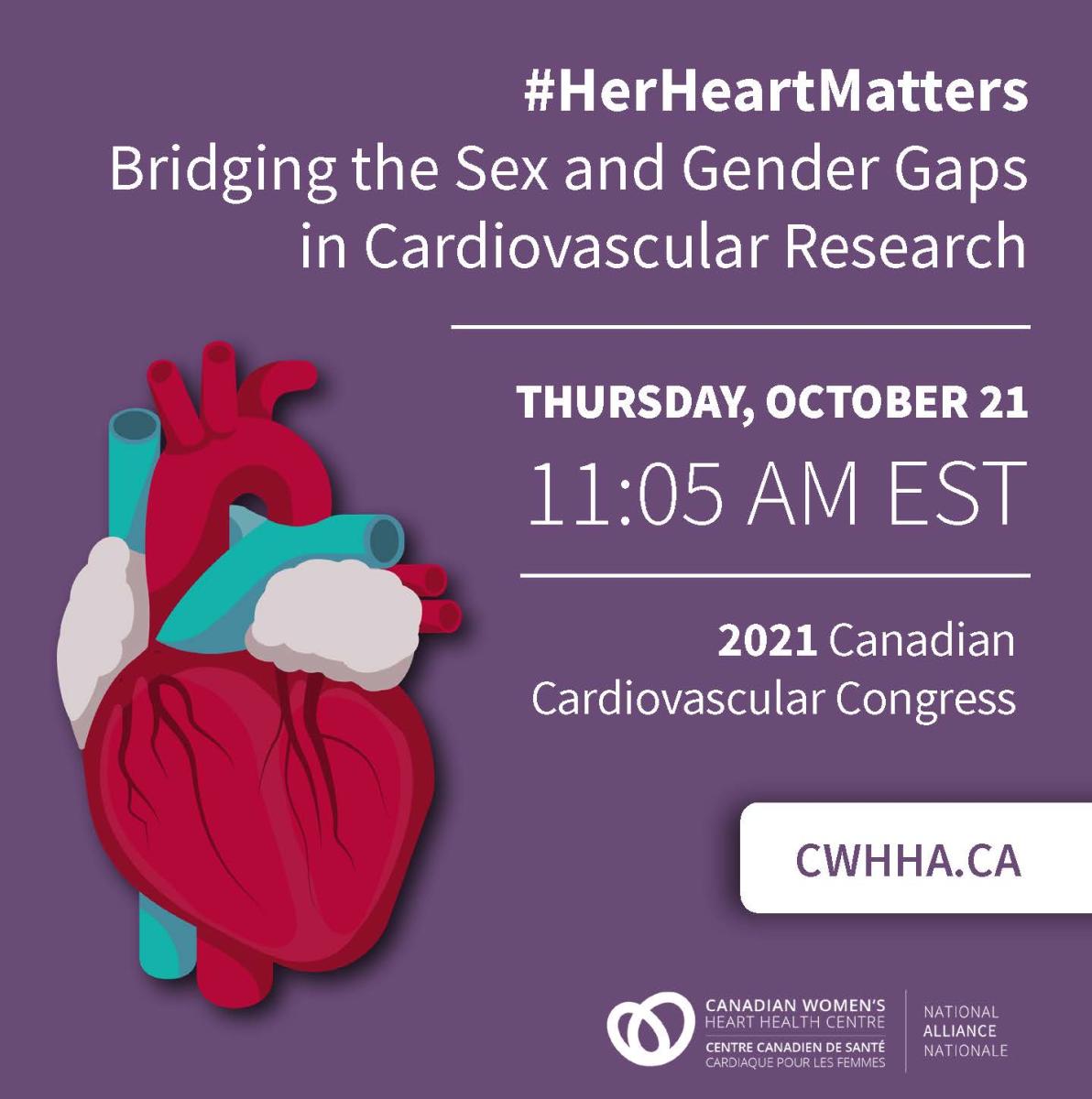 Canadian Cardiovascular Congress (CCC)
View #HerHeartMatters Presentation (PDF)
Target Audience: General: All cardiovascular (clinical and research) health professionals, Academic cardiovascular health professionals and researchers, Trainee (clinical)
Learning Objectives:
At the conclusion of this session participants will be able to:
1) Name structural barriers to gender-equal research participation, representation, and leadership in cardiology;
2) List multi-level strategies that can bridge the gender gaps in cardiovascular research leadership; anda
3) Recognize implicit biases as they relate to sex and gender and identify ways to tackle them.
Cardiovascular disease is the number one killer of Canadian women. Despite this, awareness to diagnose, treat and manage cardiovascular disease in women remains suboptimal. It does not have to be this way. In order to see fewer women with reduced quality of life, fewer women in emergency departments and dramatically fewer women dying from heart disease, we must focus on bridging the sex and gender gaps at the research level.

In this workshop, members of the Canadian Women's Heart Health Alliance will address women's participation and representation in cardiovascular clinical trials and research leadership, structural barriers to gender-equal research and other trial-design outcomes, and strategies to help close these gaps to improve women's cardiovascular health.
We will do this by using the outline below:
Karen E. Jacques will provide a valuable patient perspective by sharing her unique heart story, her experience participating in a research study, and the role of patient advocate as it relates to research;

Dr. Colleen Norris will discuss women's participation, representation and other aspects of trial diversity in clinical trials in cardiology using her work on STEMI guidelines as well as women in AF trials;

Dr. Harriette Van Spall will explore structural barriers to gender-equal research leadership and present multi-level strategies to address them - including at the trial design, academic institution, funding, medical journal, national society, and scientist/collaborator levels;

Dr. Varinder Randhawa will close the panel by highlighting the need to recognize and tackle implicit bias as it relates to gender in research settings.
English