---
#HerHeartMatters: Cardio-Obstetrics: Improving the Care of the Pregnant Patient with Cardiovascular Disease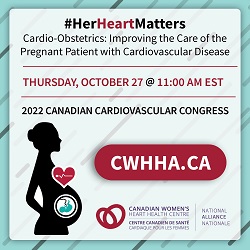 Canadian Cardiovascular Congress (CCC)
Target Audience: All cardiovascular (clinical and research) health professionals, Academic cardiovascular health professionals and researchers, Trainee (clinical)
Learning Objectives
At the conclusion of this session, participants will be able to:
1) Define the scope of cardio-obstetrics and discuss the importance of a pregnancy heart team.
2) Describe current challenges and gaps in cardio-obstetrics care, including the impact of social determinants of health (e.g., race, ethnicity, socioeconomic factors). Identify strategies to bridge these gaps.
3) Identify current initiatives and available resources for patients and health care professionals in the field of cardio-obstetrics.
Cardiovascular disease (CVD) is the number one killer of Canadian women and one of the leading causes of maternal mortality in North America. The prevalence of CVD in women of childbearing age is increasing, due to higher survival rates of patients with pediatric / congenital heart disease into their reproductive years, older maternal age at first pregnancy, and higher prevalence of underlying CVD risk factors in pregnant women. Furthermore, complications of pregnancy, such hypertensive disorders of pregnancy (e.g., pre-eclampsia), are associated with a significantly higher risk of premature CVD and other adverse outcomes in women.

Cardio-obstetrics is an emerging subspecialty of cardiology, focusing on prevention, early detection, and appropriate management of CVD from pre-conception through the postpartum period. Despite the critical importance of cardiovascular health in pregnancy, women and health care professionals remain unaware of the acute and long-term cardiovascular complications of pregnancy, baseline cardiovascular conditions of concern in women considering pregnancy, feto-maternal cardiovascular complications, and appropriate maternal cardiovascular screening and follow up. Moreover, substantial disparities and obstacles exist in accessing cardio-obstetric care among Canadian women across the country.

In this workshop, members of the Canadian Women's Heart Health Alliance (CWHHA) will address the purpose and goals of a cardio-obstetric program, its associated geographic, ethical and cultural challenges, potential keys to bridging these gaps, and current initiatives and resources available in Canada.

We will do this by using the outline below:
Ms. Laura Avelar will provide a valuable patient perspective by sharing her unique heart story.

Dr. Habibat Garuba will give an overview of the scope of cardio-obstetrics, and cardiovascular physiology during pregnancy, labour, delivery, and post-partum. She will discuss maternal cardiac risk assessment tools, diagnostic imaging considerations, medication safety, and the importance of a multidisciplinary pregnancy heart team.

Dr. Laurie-Anne Boivin-Proulx will provide insight into the geographical barriers to accessing cardio-obstetric care in Canada, and ethical considerations in situations in which pregnancy is contraindicated.

Ms. Amy Johnston will describe key socio-demographic determinants of cardio-obstetric health, and outline recommendations to address disparities in cardio-obstetric care and delivery.

Finally, Dr. Amélie Paquin will speak to initiatives that are currently underway in Canada, available programs and services, and practical takeaways and resources for women and healthcare professionals.
Cardio-Obstetrics Resources
Guidelines, Best Practices, and Scientific Statements
Reviews of the Literature
Training and Education
Social Media Hashtags
---
#HERHEARTMATTERS: Bridging the Sex and Gender Gaps in Cardiovascular Research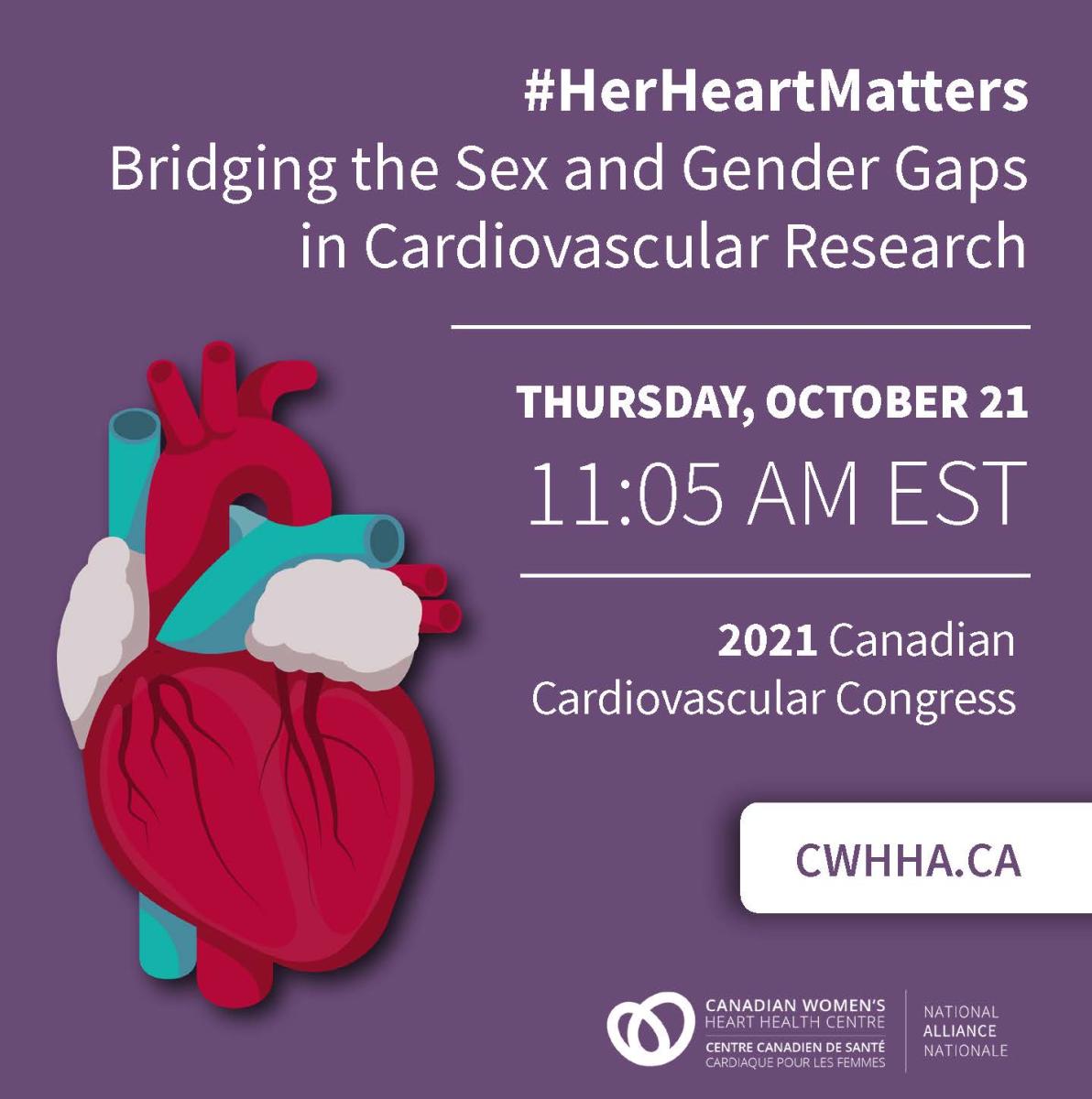 Canadian Cardiovascular Congress (CCC)
View #HerHeartMatters Presentation (PDF)
Target Audience: General: All cardiovascular (clinical and research) health professionals, Academic cardiovascular health professionals and researchers, Trainee (clinical)
Learning Objectives:
At the conclusion of this session participants will be able to:
1) Name structural barriers to gender-equal research participation, representation, and leadership in cardiology;
2) List multi-level strategies that can bridge the gender gaps in cardiovascular research leadership; anda
3) Recognize implicit biases as they relate to sex and gender and identify ways to tackle them.
Cardiovascular disease is the number one killer of Canadian women. Despite this, awareness to diagnose, treat and manage cardiovascular disease in women remains suboptimal. It does not have to be this way. In order to see fewer women with reduced quality of life, fewer women in emergency departments and dramatically fewer women dying from heart disease, we must focus on bridging the sex and gender gaps at the research level.

In this workshop, members of the Canadian Women's Heart Health Alliance will address women's participation and representation in cardiovascular clinical trials and research leadership, structural barriers to gender-equal research and other trial-design outcomes, and strategies to help close these gaps to improve women's cardiovascular health.
We will do this by using the outline below:
Karen E. Jacques will provide a valuable patient perspective by sharing her unique heart story, her experience participating in a research study, and the role of patient advocate as it relates to research;

Dr. Colleen Norris will discuss women's participation, representation and other aspects of trial diversity in clinical trials in cardiology using her work on STEMI guidelines as well as women in AF trials;

Dr. Harriette Van Spall will explore structural barriers to gender-equal research leadership and present multi-level strategies to address them - including at the trial design, academic institution, funding, medical journal, national society, and scientist/collaborator levels;

Dr. Varinder Randhawa will close the panel by highlighting the need to recognize and tackle implicit bias as it relates to gender in research settings.
English