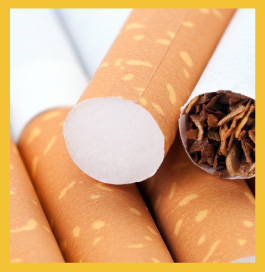 Explore actions I can take
How Do My Smoking Habits
Affect My Risk?
Diagnosis
Find out your level of addiction by taking the Addiction Questionnaire: How Addicted to Nicotine Are You?
Quit Medications
There is a variety of medications available to help you quit smoking. Don't let the cost of quit-smoking medications keep you from using them. It's important to remember that these medications are proven to double or triple your odds of successfully quitting. Most quit-smoking medications are far less than what you'll ultimately pay if you continue to smoke.
Consider this: The cost of smoking one pack of cigarettes is about $10 per day, $70 per week, or $3,920 per year. Think of the money you will save over the long term once you quit.
How It Works
Cost per Unit
Cost of 12-Week Therapy
Possible Side Effects
NRT Patch
Nicotine replacement therapy (NRT) helps reduce withdrawal symptoms, such as cravings, anxiety, irritability, headaches, and difficulty concentrating. Each form of NRT can be used alone or with others. The type, amount, and length of NRT treatment can be changed to meet your needs.
$25-30
$360

Headache
Trouble sleeping
Dizziness
Nausea
Skin irritation
Stomach upset

NRT Inhaler
$40
$420-840

Headache
Mouth/throat irritation
Nausea

NRT Gum
$32-42
$42-56

Mouth soreness
Jaw pain
Hiccups
Nausea
Clings to dental work

NRT Lozenge
$32-42
$42-56

Nausea
Heartburn
Hiccups
Headache
Coughing

NRT Mouth Spray

Headache
Nausea
Vomiting
Changes to taste
Tingling sensation in the mouth

Varenicline (Champix)
Varenicline (Champix) Varenicline comes in pill form. It targets the nicotine receptors in your brain, reducing your cravings for nicotine and taking away the satisfaction you get from smoking. Varenicline should be started 8 to 35 days before your quit date.
$72
$432

Nausea
Trouble sleeping
Headache
Abnormal dreams
Constipation
Vomiting
Gas
Altered/depressed mood
Allergic reaction (rare)

Bupropion (Zyban)
Bupropion is taken in pill form. It helps balance the chemicals in your brain to reduce nicotine cravings and withdrawal. Bupropion should be started at least 7 days before your quit date.
$63-90
$175-252

Difficulty sleeping
Dry mouth
Nausea
Constipation
Anxiety
Altered taste
Palpitations
Shakiness
Seizures (rare)