The Canadian Women's Heart Health Alliance consists of over 55 members from across Canada. Our membership is comprised of clinicians, scientists, allied health, and program managers, and 14 patient partners with various professional and personal experiences in advocacy, education, knowledge translation, law, telecommunications, engineering, human resources, and psychology.
The Alliance is comprised of an Executive Steering Committee, International and Patient Advisory Committees, four Working Groups and a Secretariat.
Executive Steering Committee
The Executive Steering Committee provides guidance as needed to the activities of the various CWHHA committees and working groups to ensure that all activities are aligned with the mission and vision of the Alliance. Executive Steering Committee membership includes:
Chief of the UOHI Division of Prevention and Rehabilitation

Deputy Chief, UOHI Division of Prevention and Rehabilitation

Co-Chairs of the Patient Advisory Committee

Chairs of the Alliance Working Groups

Representatives from partner organizations and other appointed members, as and if identified.

Secretariat
The purpose of the Secretariat is to facilitate the growth and development of the Alliance into a national leader in the promotion of partnership, collaboration, dissemination and implementation of best practices in women's heart health across Canada. The Secretariat is a convening body that provides operational and communications support, knowledge brokering, builds membership engagement, maintains records and coordinates stakeholders. The Secretariat provides its support through the Canada Women's Heart Health Centre at the University of Ottawa Heart Institute.
Patient Advisory Committee
Co-chaired by Ms. Jackie Ratz and Ms. Karen E. Jacques
The Patient Advisory Committee provides credible, reliable insight and information on what matters most to patients. This includes, but is not limited to, raising awareness of emerging issues, supporting the development of patient-oriented projects, and identifying innovative knowledge translation and mobilization approaches.
International Advisory Committee
Formalization Pending
The International Advisory Committee will provide the international expertise of women's cardiovascular health issues related to knowledge translation and mobilization, training and education, advocacy and health systems and policy
Working Groups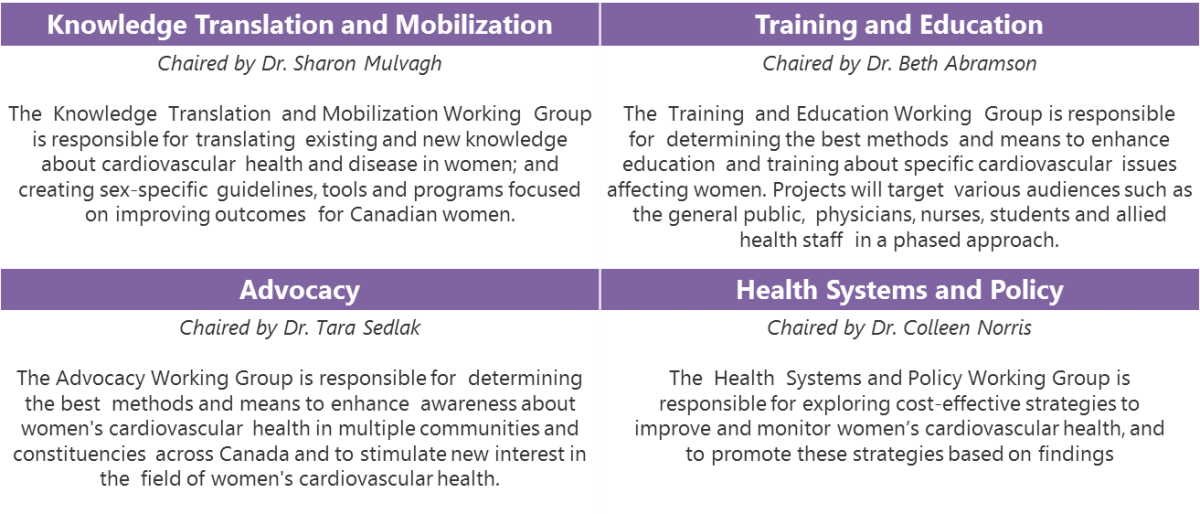 Follow us on Twitter

Powered by:
The Canadian Women's Heart Health Centre(CWHHC) is based at the University of Ottawa Heart Institute. The University of Ottawa Heart Institute has flourished into one of Canada's most distinguished heart health centres for the unparalleled care it provides to its patients, a world-renowned research Institute that brings science from bench to bedside, and the country's main influencer when it comes to preventing heart disease. Its promise remains the very pillar on which it was built: Always putting patients first.