Patients, family members/caregivers bring relevant insight from living with a condition or illness and from interactions with the health system and care providers. Participating in working groups and committees will provide you with an opportunity to meet other people from across Canada with a similar experience, enable you to impact how cardiac care is delivered, or expedite new research findings into practice!
If you are interested in working with the Canadian Women's Heart Health Alliance, we encourage you to submit your Expression of Interest by August 30, 2018 at 5:00 pm EDT.
Who are we looking for?
We are looking for 12-14 individuals to help ensure that the projects and deliverables that the Canadian Women's Heart Health Alliance are seen through the patient and family/caregiver lens. These individuals can be women living with heart disease or a male/female family member/caregiver to a woman with heart disease. In this case, "Family" refers to blood relatives, spouses, partners and close friends who provide care for a woman living with heart disease.
How can you be involved?
We have 3 choices available for those who wish to be involved (See descriptions below):
A. Patient Advisory Committee and Working Groups
B. Patient Advisory Committee and Board
C. Patient Advisory Committee only
1. Working Groups:
The Working Groups each consist of approximately 10 members and will contribute their knowledge, their expertise, and their time and effort to advance the goals, objectives and activities as outlined by the Canadian Women's Heart Health Alliance. The Working Group operates as a team and draws on the skills and talents of each member to ensure the Alliance's success. We are looking for 2 patient members of each of the working groups. Here are the 4 areas you can potentially work in:
The Advocacy group will support advocates as they enhance awareness about women's cardiovascular health in their communities, and to stimulate new interest in the field of women's cardiovascular health.
The Education and Training group will work to enhance education and training about specific cardiovascular issues affecting women. Projects will target various audiences such as the general public, physicians, nurses, students and allied health staff in a phased approach.
The Health Systems and Policy group will explore cost-effective strategies to improve and monitor women's cardiovascular health, and promote these strategies based on findings.
4. Knowledge Translation and Mobilization
The Knowledge Translation and Mobilization group will focus on translating existing and new knowledge about cardiovascular health and disease in women; and creating sex-specific guidelines, tools and programs focused on improving outcomes for Canadian women.
2. The Patient Advisory Committee:
The Patient Advisory Committee of the Women's Heart Health Alliance consists of the 10 patient/family members, broken down as follows:
A chair and a co-chair for the group. These members will also participate in the Board meetings for the Alliance. (2 people)
A representative from each of the four working groups. (4 people)
Four additional non-Working Group members will be recruited for this panel. (4 people)
The Patient Advisory Committee will provide credible, reliable information on what matters most to patients. This includes advising on and co-designing projects, policies and strategies focused on women's heart health through the lens of Patient/Family Centred Care. This Committee will enable the patient members to share their respective Working Group's progress and obtain support with regards to overcoming potential challenges.
For further clarification, please click on the image below to viewthe different roles available for patients and caregivers in the Working Groups, Patient Advisory Committee and the Board.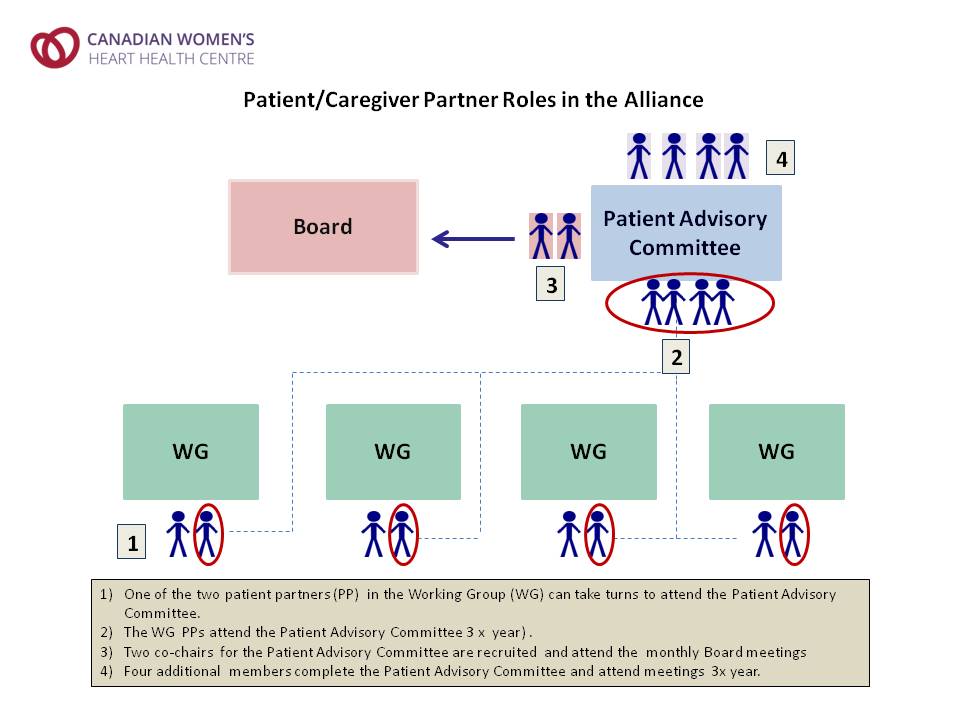 How to submit your Expression of Interest:
1. Click on the Patient Partner Expression of Interest. This will will provide more information on the different ways you can get involved, the type of work you may be asked to support with, the time committment, and intake process. Then click on the link in the Intake Process section to answer a few questions so that we can better get to know you and the experiences you have had.
2. If you have already read the Patient Partner Expression of Interest, you can also complete the questionnaire here.
3. Please visit this page for the list of potential Working Group meeting dates. For Working Groups with multiple dates, please note that only one date will be selected based on membership availability.
If you have any questions or concerns, please contact Sabrina Pillay, Knowledge Translation Lead at cwhhc@ottawaheart.ca.