Participating in the campaign
Join the Wear Red Canada campaign!
To help you do this, we have prepared a campaign toolkit with all the resources you need to join us. Use these resources to help plan your "Wear Red Canada" event.
1 - Campaign Plan
This is your how-to guide to help you understand our strategy, key messages we wish to communicate, and how to use the resources provided.
2 - Key Messages
This campaign has 3 key messages that we want you to keep in mind when talking to people in your workplace and community about heart disease.
3 - Email Strategy
Invite your colleagues and friends by sending them an email. Use our email template, attach one of the posters below and hit send!
Use your professional or personal accounts to spread the messages. We suggest that you use our suggested posts in combination to keep a united front on the social media platform.
5 - Additional Activity Inventory
For those who wish to do more and plan an event, here are some suggestions. An event could be setting up an information table/booth or having a lunch n' learn.
Here are three posters you can use depending on what you have decided to do leading up to and on the day of the event. You can even add your organization's logo.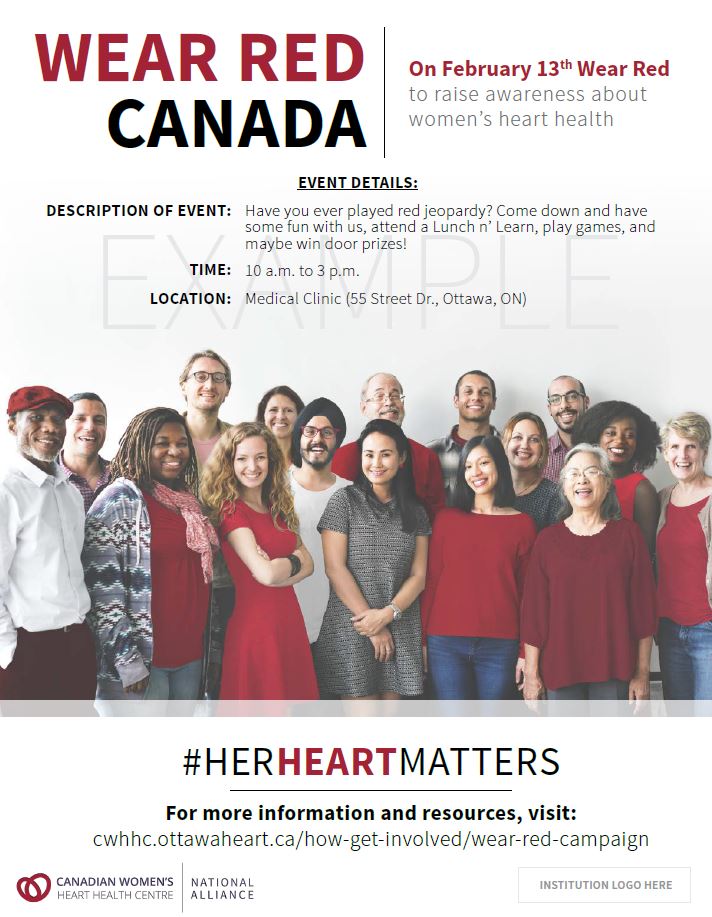 2. Event poster (Event details free text box)
3. Event Poster (Event details with headers)
Note: Acrobat Pro is required to insert the logo.