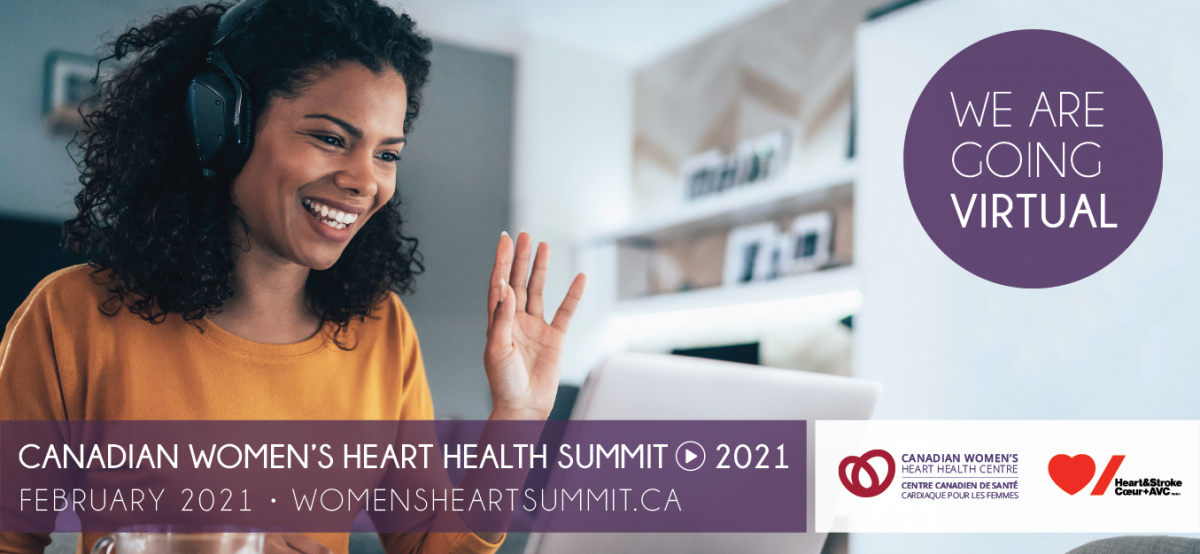 We're going virtual and want to hear from you!
The Planning Committee is excited to announce that the Canadian Women's Heart Health Summit will be held virtually in February 2021. Previously a 2-day in-person event, we will be moving the program to a virtual platform - and would like to get your input!
If you have 10 minutes, we would be grateful if you completed the survey below.
The deadline to complete is August 10 .
By completing the survey, you'll be entered into a draw for a chance to win an item from the Wear Red Canada online store!
Don't miss this chance to be part of something that will change the face of women's heart, brain, and vascular health.
We hope you'll join us (virtually) in February!
---
Postponed: 2020 Canadian Women's Heart Health Summit
The Canadian Women's Heart Health Centre has been monitoring recommendations from Ottawa Public Health, the Public Health Agency of Canada, and partner hospitals and health organizations regarding the current COVID-19 (Coronavirus) outbreak. Considering the ongoing situation, the Summit Planning Committee has made the decision to cancel the on-site Summit, and postpone to 2021, dates TBD. This includes all oral presentations, accepted poster presentations, career mentoring sessions, and additional networking opportunities.
The health and safety of our delegates, colleagues, staff, and partners is our top priority. Please stay tuned for more information.
Frequently Asked Questions - Updated March 25, 2020
Have all networking events and meetings been postponed as well?
All in-person networking events are postponed including the poster sessions, Women with Lived Experience Reception, Networking Dinner, and the Career Mentoring session.
Will Award winners still receive their awards?
Award winners will still receive their awards. Although we are not able to have the on-site event on April 2nd and 3rd, we would still like to recognize our award winners, and give honourable mention to all nominees. Please stay tuned for more information as we continue to explore virtual options.
Will attendees be refunded for hotel costs?
The Canadian Women's Heart Health Centre (CWHHC) will not be refunding hotel costs. If your hotel has been reserved through the CWHHC, we have cancelled reservations on your behalf.
Will attendees be refunded for transportation costs (airline/train)?
Please cancel your travel arrangements and take advantage of full credit and/or reimbursement for your travel. Please visit your airline's website for more details. The CWHHC will not be refunding individual airline ticket costs.
Will registration fees be refunded?
The CWHHC will be refunding the full cost of your registration in the following days. It may take 5-10 business days to see the full credit on your account. We appreciate your patience as we complete this process.
Should I stop preparing my presentation/poster abstract?
At this point, the 2020 CWHHS will not be held on a virtual platform, so please feel free to hold off on any further preparations for a presentation. Once the discussions resume, we will notify you of further details.
Will my abstract still be published in the 2020 issue of the Canadian Journal of Cardiology?
All accepted abstracts have been sent to the Canadian Journal of Cardiology, but publication has been postponed until new Summit dates have been established.
With the 2020 Summit being cancelled, can I still include my presentation on my CV/Resume?
Yes. As per APA guidelines, accepted abstracts can be added to your CV with original dates and location listed. Dates and location can be updated once the Summit has been rescheduled.